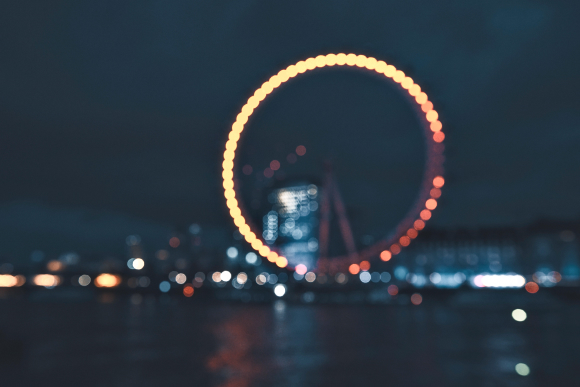 Learning is central to any successful organisation. From filling knowledge and skill gaps to developing new leaders, fostering an engaged workforce, and retaining top talent, when correctly implemented, L&D (Learning and Development) can create meaningful competitive advantages in the modern business world. While many companies utilise technology, incorporating an LMS, LXP, Content Authoring Tool, or LRS, few extend its use to encompass their entire approach to learning. However, there are significant benefits to incorporating all L&D activities into a single platform through a complete learning solution (also known as an "end-to-end" or "all-in-one" learning solution).
What Does Complete Learning Solution Mean?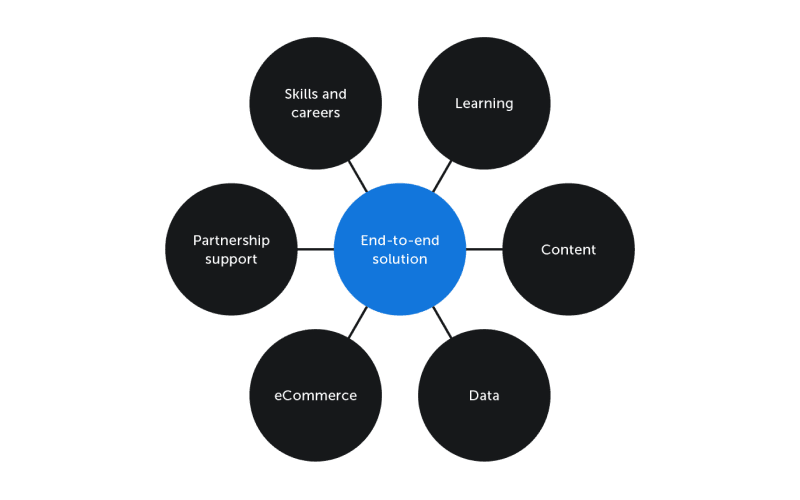 An example of components of the Valamis complete end-to-end ecosystem
While an LMS helps manage the delivery of educational content, an LXP delivers enhanced personalised learning experiences, a Content Authoring Tool supports the creation of structured and user-generated content, and an LRS enables data capture to track and measure learning impact.
A complete learning solution is not just another L&D tool; it combines LMS, LXP, Content, and LRS in a single platform, simplifying work for L&D professionals and enhancing the learning experience for employees.
This includes:
A clear understanding of all L&D activities including measuring compliance, how employees are progressing through e-learning, booking and management of in-person courses.
Enhanced discovery of content through a reduced number of clicks, aligning learners with only content they need to know.
Improved employee feedback systems and data tracking to determine more meaningful learning metrics and KPIs and ultimately determine the actual effectiveness of different training approaches.
Greater collaboration between L&D staff and learners and amongst the learners themselves. Building a collaborative learning environment raises employee engagement levels and focuses staff on learning new skills and bettering themselves.
A comprehensive view of existing content and information on how learners interact with them. With the context of what works, what doesn't, and data on existing skills gaps, instructional designers can create scalable, impactful content to meet the needs of the organisation.
Better data and, therefore, more accurate skill gap analysis help you assess current workforce capabilities and develop the best strategy to achieve the organisation's broader business goals.

Complete learning platforms deliver all the tools an organisation needs to unleash it's creativity and build learning experiences that support and reflect the workplace culture.
Rather than scattering the learning ecosystem across multiple systems, a complete learning solution houses them in a single application.
Information is stored in one place, allowing different parts of the organisation to use it to improve employee learning. This increases transparency in learning and development technology, and collaboration in L&D functions strengthens the impact.
A complete learning solution optimizes every aspect of employee education and development. From onboarding and compliance training to customer education, sales enablement, and partner training, a single solution for everything an organisation needs to teach its employees.
The Benefits of a Complete Learning Solution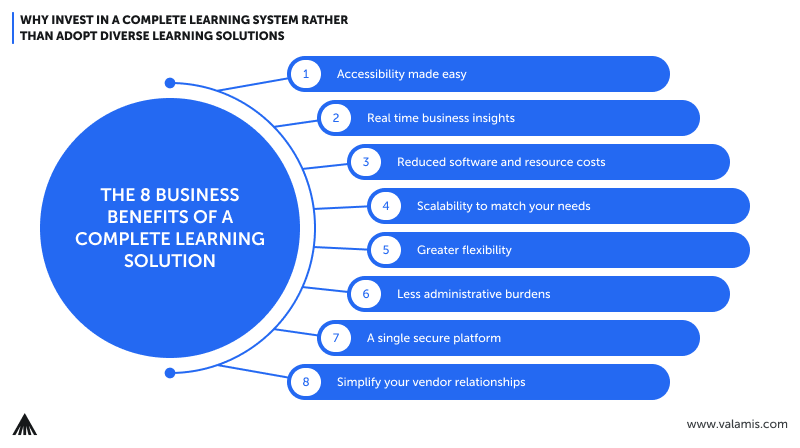 1. Accessibility made easy
With a well-designed complete solution, learning content is easily discovered. Rather than jumping from one platform to another depending on the source or subject, they can log into a single platform, quickly navigating to their training material.
A complete learning system also means they can access their courses and content anytime, anywhere, from their work or personal devices. They can choose to learn at a time and place that suits their schedule.
2. Data collection capable of measuring training effectiveness
Every organisation wants to understand the effectiveness of its training.
What impact is L&D having on the business? Measuring training effectiveness is not a simple task.
Organisations can assess employees post-training and determine what they learned, but how do they know if this new knowledge is actively making a difference in the workplace? The answer is the ability to track users' learning across multiple scenarios and platforms to produce a complete data set. For example, the xAPI specification allows capturing data from various online and offline sources.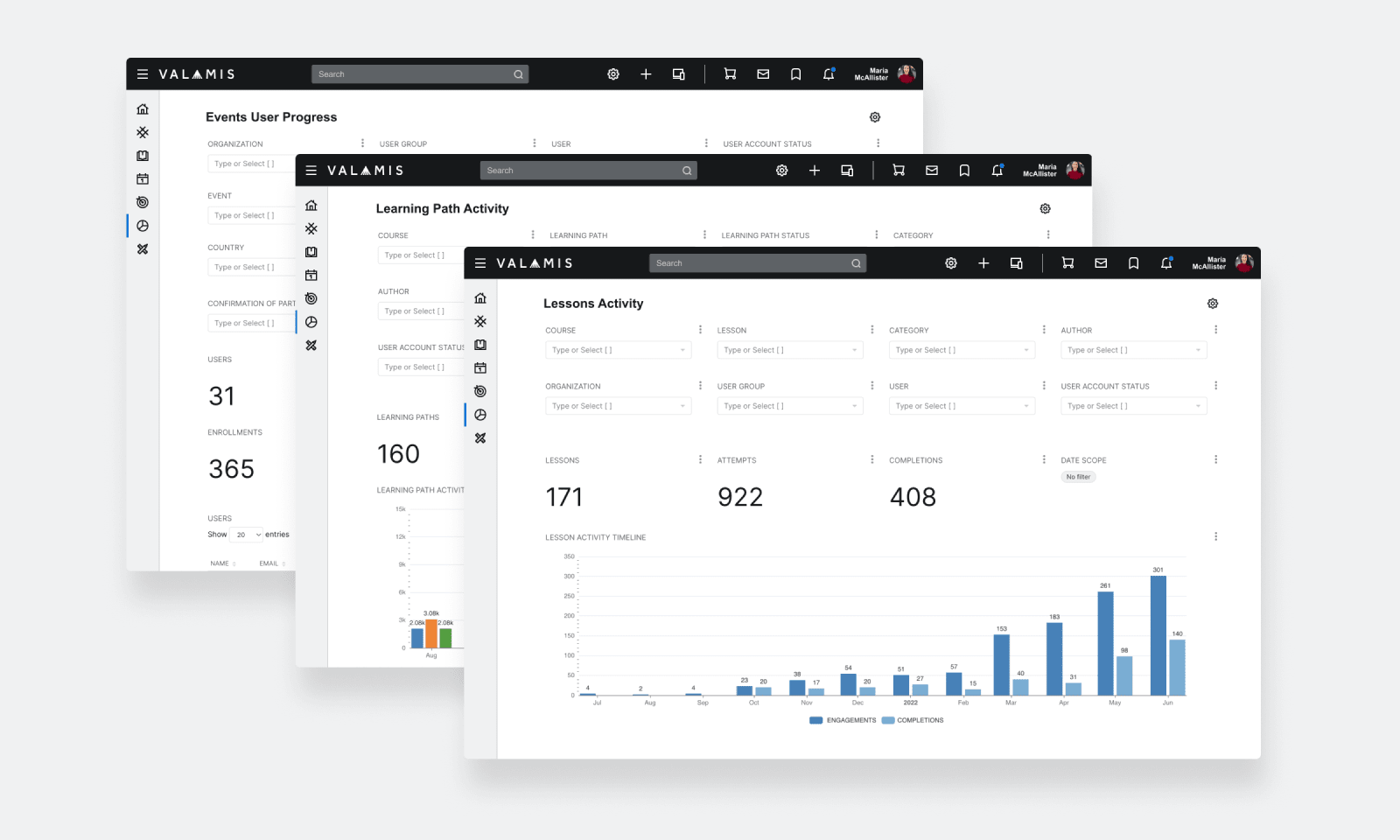 An example of collected data with the Valamis Learning Solution
Complete corporate learning solutions are ideal for doing just this. They enable the tracking of assessment data (test scores, completion rates, etc.), help identify skills gaps and measure skills' growth over time.
For example, if an employee's productivity or performance dramatically improves after a training programme; businesses can track this back to associated L&D programs.
Seeing what works for your business operations and workforce helps to produce more predictable L&D successes in the future.
3. Reduced costs in more ways than one
While the outlay for a complete learning solution can initially seem high, that is before you consider all the savings it creates:
Consolidating your learning technology investments – one software package for your L&D department rather than investing in tools for every team, subject, and use case.
Reduction in administrative effort – one software package reduces the resource needed to administer the platform (see Point 6).
Classroom to online – where appropriate, shifting learning online enables learning at scale and a reduction in cost (see Points 4 & 5).
Increased productivity and time to competence – one place for all learning, reduces the barriers to entry, improving the learning experience and in turn increasing the time to competence resulting in a maximisation of billable hours.
4. Scalability that matches your needs
Complete learning solutions scale depending on your needs. Whether it is a single employee or a large cohort, with existing eLearning modules to choose from, you can scale your L&D efforts to match the current requirements.
Unlike more traditional in-person training, the costs are controlled as the programme grows. Given the rise of remote, global workforces over the last few years, complete digital learning solutions reach and satisfy global demand.
5. Greater flexibility
While one learning solution is a great way to manage corporate training, learning shouldn't come down to one choice.
Everyone likes to learn differently, and everyone comes to an organisation with different levels of education, experience, and curiosity. A comprehensive solution offers access to a wide range of content for individuals to upskill in what they need.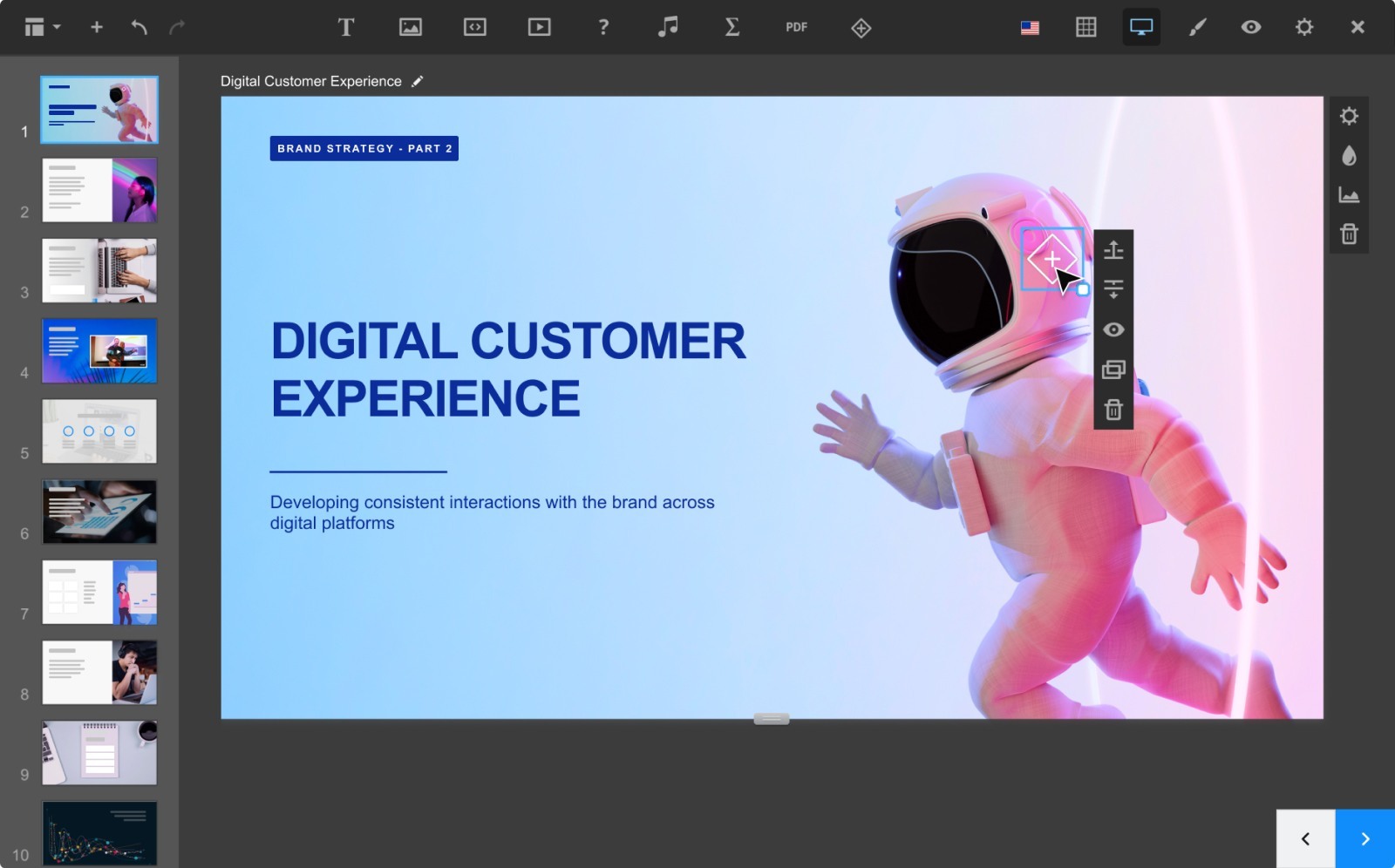 With content authoring capabilities in the Valamis Learning Platform, organizations utilize user-generated content. Each employee can easily create learning modules and share knowledge.
Independent learners can manage their own programs, whether written content, videos, or an interactive gamified learning experience. Group learners can band together and collaborate as they tackle training material. Discussing topics in person or remotely helps each other remain engaged and grasp new concepts.
Learn more about Lesson Studio, Valamis' Content Authoring Tool
6. Less administrative burdens
With software doing the heavy lifting, you can remove many of the major administrative burdens that come with organising L&D programs. Automate each employee's tracking and progress thanks to LMS functionality as part of a complete learning solution.
Valamis' Senior Learning Solution Partner, Dawn Viera, with 20+ years' experience working in enterprise L&D most recently as VP, Director of Learning & Development Operations at Santander Bank, N.A. outlines the key reasons administrative burden is lifted with a complete learning solution:
The ability to easily and immediately publish e-learning content both from SCORM and xAPI for just in time learning in 2 clicks.
The ability to easily and immediately create and publish e-learning in lesson studio (Content Authoring Tool).
Get real time analytics/reports without the need to create parameters beforehand.
Ability to create custom roles with specific permissions at the platform level (Admins) without the need for additional support from the vendor side.
7. A single secure platform
Finding a single secure solution means you aren't putting your data in the hands of multiple services.
You no longer have to worry about a data breach occurring due to the weakest link in the chain. As long as your complete learning system employs cybersecurity best practices and is compliant with relevant standards, you have one less thing to worry about.
A growing trend in cybersecurity is the need to protect the software supply chain. This refers to all the code that makes it into your final software product and includes third-party components.
Reducing the number of products reduces your software supply chain and the potential attack surface presented to adversaries looking to compromise your systems.
8. Simplifying your software vendors
Procuring a complete learning solution through one vendor means you no longer have to manage multiple vendor relationships.
From commercial negotiations, legal checks, setting access, to implementation, success and renewal, you only have one contract and one vendor to manage.
https://player.vimeo.com/video/787555202
Conclusion
Every company needs the same thing: to facilitate effective, value-adding learning experiences that maximise the potential of their employees.
You can break down that problem into smaller and smaller chunks and find a specific solution for each. Or you can use a malleable and dynamic complete learning solution that adapts and scales to your needs.
You can cover everything from a single platform with a complete cloud-based learning solution. Simplify operations, introduce greater flexibility while saving money, and enhance employee learning.