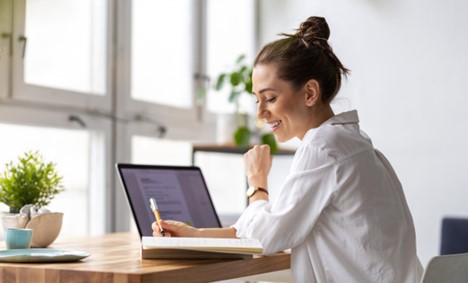 It's no secret that if you want your company to thrive, you need to treat your staff as the most valuable asset - your human capital. But successful employee recruitment doesn't guarantee that your hires will always maintain the high level of productivity that you expect.
Let's go over the most common reasons why you might notice a decrease in productivity at the company level.
Employees are unaware of a company's procedures. Incompliance prevents employees from functioning at their best and results in mistakes that could be prevented.
Employees don't receive proper induction and onboarding training. Their performance could be enhanced if they were better prepared and introduced to their job tasks from the very beginning.
Employees experience communication gaps. If there is no common understanding of exactly how things should be done in your business, this creates silos between departments and a lack of coordination within teams.
Employees lack recognition and feedback. If employees don't feel valued and see that they are a part of something bigger, this may indicate a poor organizational culture and can be detrimental to productivity.
Employees feel disengaged and unmotivated. In part, this stems from the previous point. But this may also indicate that it would be good to cheer them up with some group activity and add a spirit of friendly competition to some degree.
These are the top five reasons employee productivity might fall. If you can relate to any of them, it's best to reflect on them for a while. The fact that 94% of employees feel more committed to their job and current place of work, if the company invests in their development, certainly provides some food for thought. To ensure that their productivity is maintained, you need to eliminate any bottlenecks in performance and help your hires develop new competencies.
And given that point, scalable and well-organized training can be a solid choice to address these challenges and improve productivity. If you're wondering how to organize that, it's much easier to opt for eLearning and launch online courses. You can even build them in PowerPoint and then publish them to be watched anytime, anywhere on a corporate learning platform – an LMS.
Below are the ways in which you can use eLearning as a great booster for your team:
Ensure fast high-quality induction
It's not unusual for new hires to begin their role without a proper induction. As a result, it usually takes too long for them to become operational and productive. Plus, if you don't devote enough time to induction training, you sacrifice the quality of their work and increase the chances of noncompliance.
Actually, you can conduct high-quality induction quickly. With a PowerPoint-based authoring tool like iSpring Suite, you can build courses using the company's safety regulations and instructions stored on slides or in Word and PDF files. You can then add knowledge checks and interactions to make the material engaging and publish it online with ease.
New hires can take the course online, get tested with the final quiz, and be fully prepared for day one. You can build such courses in under an hour, but use them repeatedly and conduct induction faster, yet better.
Provide thorough onboarding
It's cheaper to organize proper employee training the moment they join a company, rather than 'fight fires' all the way down the line. You'll set the entire team up for success if you develop a training module on the company's mission, structure, and values. Don't forget to create modules or entire courses on your products, standards, etc. to deliver comprehensive training on them.
With an LMS like iSpring Learn, you can set special policies and enroll all new hires into compulsory onboarding courses automatically. Such unified and coherent onboarding will help establish your corporate culture, pave the way for a stronger team, and promote quicker adaptation.
Enable upskilling at scale
Skill and knowledge gaps are a serious issue right now because industries change with lightning speed, and businesses have new needs every year. Do you want your employees either to refresh on existing approaches to work or to keep up with trends? Online job-specific courses will be good for both purposes.
For example, you can launch courses on cold calls, objection handling, or dealing with difficult customers, with simulated dialogues and fictional characters. They will help your employees bridge the gaps in customer interaction competencies in a smart and engaging manner.
Encourage employees to learn more
Can you imagine training that everybody will be eager to accomplish sooner? Actually, this is more than possible if you include some game elements in the process.
For example, you can set up a system of points awarded for successful completion and induce friendly competition. While employees collect points for their learning performance, they can gain digital badges for their achievements and appear on the leaderboard.
This way, online learning encourages employees to take more courses voluntarily and increase their knowledge. Points and leaderboards boost motivation, make top learners feel 'on fire,' and ultimately lead to higher productivity at work.
Monitor learning performance
You most possibly have a KPI system in your company. Training is another field where efforts and results must be counted carefully. So why not gauge the employee training progress and link it with your business metrics? With LMS reporting, you can measure the training output seamlessly and in real time.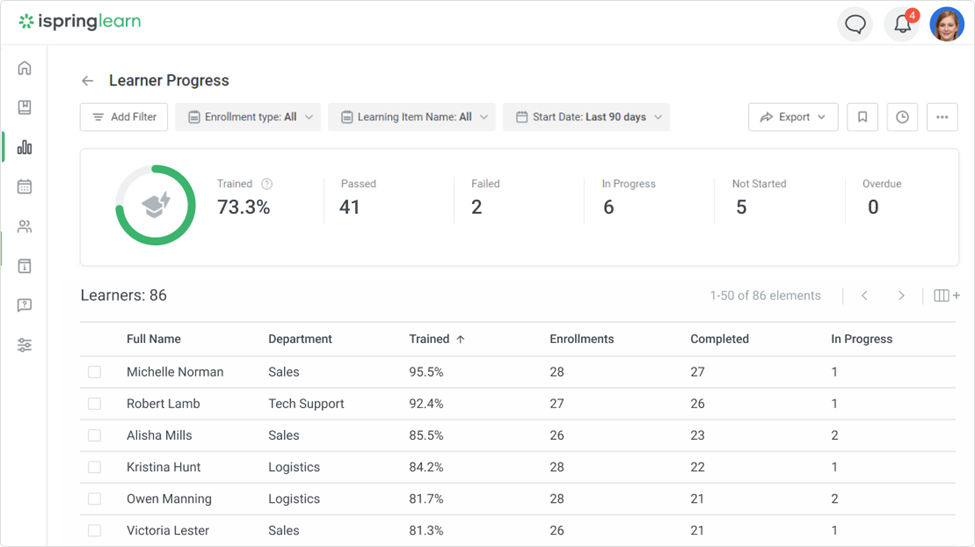 For example, you can keep track of how many employees started and completed courses, how much time they spent on assessments, where they made the most mistakes – and draw important conclusions on their overall performance. If you see that a particular team is lagging behind in product knowledge training, you'll be able to take needed action in time, and this can improve their productivity.
Now you know how eLearning can help your hires get prepared for a job, improve knowledge and understanding of policies and processes, and get more done. Give it a shot and see for yourself! Good luck!