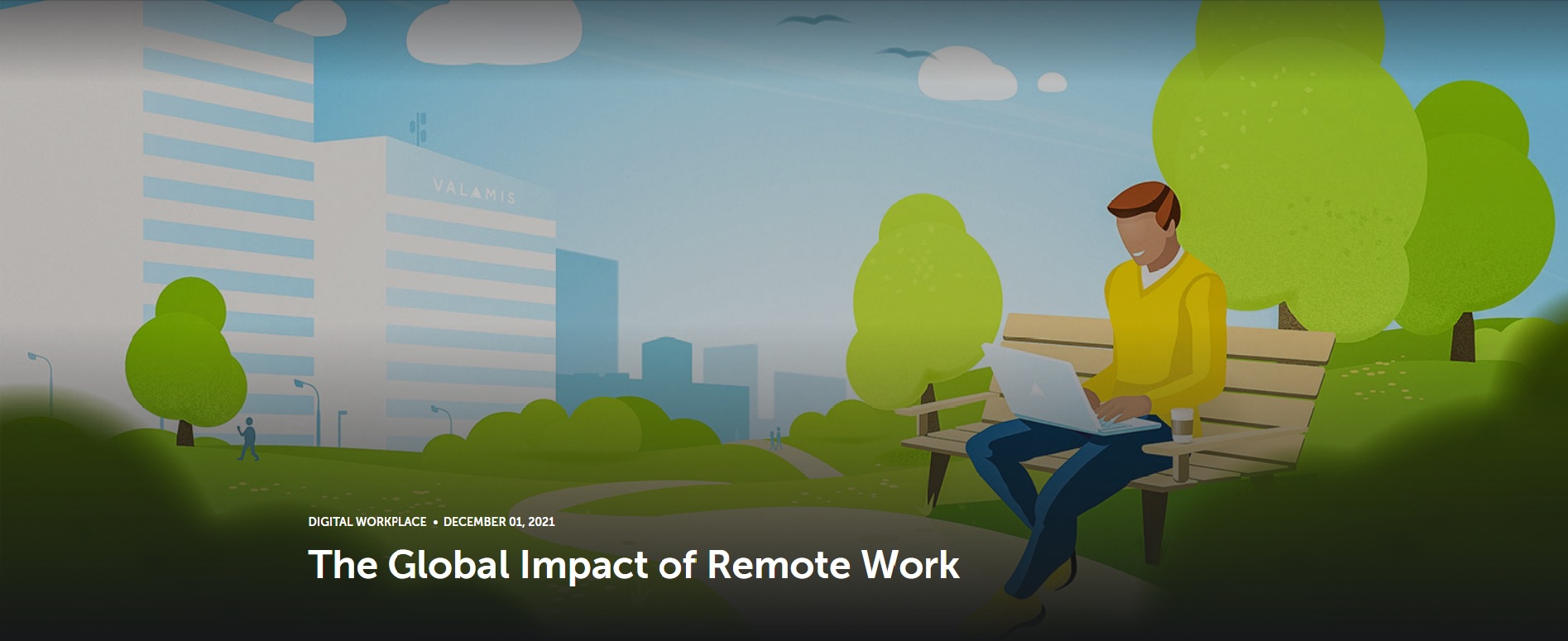 At the beginning of 2020, working remotely was a luxurious company perk that a lucky handful of all workers could enjoy. Before the Coronavirus pandemic crisis, about 5% of American workers were working remotely. Within a few months, the pandemic infection rate accelerated across the world, and remote work quickly became the "new normal". Companies who would not have considered introducing a remote work option for employees pre-pandemic were forced to adapt quickly to this new way of conducting business. The global shift to remote work has changed how companies conduct business, and it is making an impact on a future post-pandemic world:
As author Viktor Frankl famously said, "when we are no longer able to change a situation, we are challenged to change ourselves". The global pandemic provided companies and employees with the opportunity to adapt to a quickly changing world and welcome a new digital revolution.
Online learning also had its rise to fame in 2020 with the significant shift to remote work. With the increase in digital technologies used to connect remote workers, many people turned to online learning courses to expand their skills and stay updated with the quickly changing world. Upskilling for employees also became necessary to keep businesses running as 77% of organisations experienced a decline in sales during the pandemic, and many businesses were forced to lay off workers.
The phrase "remote work" is synonymous with the concept of the home office. However, that is only one form of what remote work can look like once we are able to work without social distancing in place. The basic idea of remote work is to allow an employee to work from any conceivable location to prioritise the employee's mental and physical well-being and provide the employee with flexibility and a sense of agency over their workday. Places for working remotely can include a home, a modern coworking space, a hotel room, or even a coffee shop on the other side of the world. The goal is to enable employees to adapt their work-life to balance their home life in the best possible way.
Valamis has locations in Finland, the USA, Germany, UK, the Netherlands, Russia, and India. Since Valamis specialises in digital learning, almost 100% of our workforce is mainly computer-based and scattered worldwide. Naturally, we need to find technical ways to collaborate efficiently over long distances. At Valamis, remote work is available for most employees at any time, so we can give some insight into what it can look like and why it makes sense.
From product development, human resources, marketing, and sales, many areas and departments of the company work remotely. Marketing, where I work, has colleagues in five different countries around the world. Without digital communication and collaboration, a unified and effective market presence would be unthinkable. Because of these basic requirements, remote work is not a groundbreaking innovation for Valamisians. Meetings can even occur in the sauna, like the one at our headquarters (heat off is preferred if you have your laptop with you).
When the Coronavirus began, our CEO announced that all employees would stay at home. We are so highly digital that it is not a significant change for us to switch entirely to remote work. As a result, the news did not completely uproot our daily working lives. However, some workplaces had to adapt quickly and transition their work and learning & development programs online.
As a digital learning company dependent on remote work and international collaboration, we would like to provide you with some actionable advice on implementing a more permanent remote work option and a digital learning culture at your organisation. By implementing these tips and creating a better digital experience, your company can become more agile and use the growing enthusiasm for learning among remote employees.
What Will Long-term Remote Work Look Like?
The primary benefit of allowing employees to continue a remote work schedule is to help employees better manage work-life balance. Remote work frees up the time spent commuting to an office. It also gives employees unimagined freedom and a sense of control over their time. As your organisation considers adopting remote work permanently, consider the various types of remote work situations:
The Hybridity of Remote Work and In-Office Days
Hybridity combines remote work benefits like increased flexibility with the traditional strengths of coworking office space., Benefits include workplace socialisation, face-to-face collaboration, and smoother communication. An employee who can do much of his weekly work digitally but still needs to keep personal appointments can set up their calendar to work from home for two or three days and travel to the office or customers as required. It also saves time and improves productivity by avoiding unnecessary commuting while still allowing for in-person teamwork.
Coworking Spaces
Coworking spaces grew in popularity before the pandemic as a cost-saving alternative solution to the traditional office space. Coworking spaces offer rental options for private meeting rooms, office space or workstations. The coworking space design provides a hub for productivity, innovation, and a sense of community. Employees also have more freedom and the advantage of innovative networking with people from different industries. This is possible for employees, managers, and freelancers alike and is a kind of interim solution between remote work and traditional full-time office work.
Fully Remote
Do people even want to return to the office at all? Research is showing that the answer is probably not. After having experienced the benefits that remote work can offer, employees seem to want to take full advantage of the concept of remote work long after the world has recovered from the pandemic.
Employees have become more creative with their remote work freedom because they can continue working when they are most productive. Once travelling resumes, some people may use being fully remote to travel the world and work globally. Depending on the job description, this form of work can offer unmeasurable advantages, as the experiences of cultural immersion inspire employees in their work and beyond.
How Remote Work Promotes Online Learning
Remote work is not a roadblock for learning - it is much more of an accelerator for any learning culture with suitable learning technology in place.
Based on data gathered from 3,064 participants who responded to Valamis' 2020 Global State of Learning & Development survey online:
But it's not just company executives who believe in the power of digital learning during this crisis. During the pandemic, Google searches for online courses grew by over 70% globally between the last week of March and the first week of April 2020.
Fully remote workers rely entirely on online learning formats, which need to be individualised for each learner while remaining connected to their company's learning and development expectations. With the extra time saved by removing the commute to the office, employees can have more time in their day to devote to learning tasks. The more efficient an employee is, the more time and motivation they will have for acquiring new skills and increasing their productivity. The inspiration for dedicating time to improve and learn new skills is a common side effect of productivity caused by remote work. This is a powerful tool to enhance organisations learning culture as a whole.
Corporate Learning
Irrespective of their daily workplace, employees want to develop their skills and pursue their individual career goals. There are always innovations, requirements, or changing circumstances that require relearning or acquiring new skills. Classroom training or seminars are not always possible to arrange or productive use of valuable working time. Many internal learning materials are managed in Learning Management Systems (LMS) and are therefore digitally available. Modern learning solutions such as the Valamis Learning Experience Platform (LXP) also offer the possibility to access the company's learning content from anywhere.
Additionally, an LXP allows the employer to see employees' learning needs and recognise the impact on the organisation's overall performance - even when working remotely. It also allows employees to learn as they wish or need to while remaining independent of time and place. To this end, experts can even create personalised learning content from their respective areas and share it with their colleagues.
Remote Work Advantages for Employees
No matter what type of workers you have in your organisation, remote work can be a massive motivator. It can enhance employee loyalty to the company, increase motivation, and improve quality of life. But why exactly is it so attractive for employees? And why should employers promote this form of work?
Flexibility
Probably the most obvious advantage is a more flexible way of life. Remote work allows a much freer planning of the day, which is an excellent relief for most people. By removing fixed times and fixed office space restrictions, you can focus on work and life outside work. Working parents can have more flexibility with their schedules to tend to their childrens' needs.
For example, the workday can be divided into the early morning and late evening to work around school schedules. Anyone who wants to further their education can pursue an academic degree alongside their job and take up fixed university appointments without sacrificing working hours. Other factors, such as hobbies and private commitments, are also easier to plan if employees can organise flexible work schedules.
Health and Wellbeing
Working from home for the past year has been less stressful than travelling to work every day for many workers. The elimination of the commute to work alone saves a lot of time and nerves, which is good for mental health. Employees that can enjoy personal hobbies outside work will also reap benefits at work. Healthy eating habits and increased exercise can also be benefits of working from home. It provides the opportunity to eat more nutritious food cooked at home instead of fast food during the short lunch breaks in the office. The time saved commuting to the office can be spent with physical activities and exercise to improve employees' overall health.
Working to Live Versus Living to Work
"It speaks to our desire to take control of our lives again and to spend our time as we want and where we want. It is representative of hundreds of thousands of people around the world who are tired of accepting a life they are deeply dissatisfied with." - Greg Caplan, The Remote Manifesto
Why are many people dissatisfied with their lives? According to Caplan, it might be the work itself that creates dissatisfaction in life and the commuting, office life, typical 8-5 schedule with no breaks, and less time at home with family can brew the anxiety people feel in their lives. When this work lifestyle shifts with remote work, it gives us back a sense of control and increases the joy of living. Remote work can be the difference in working to live as opposed to living to work.
Environmental Benefits
In addition to the noticeable advantages of remote work for an individual, it also has long-term positive effects on the environment. If fewer people have to drive to work every day, it lowers greenhouse gas emissions, reduces the use of fossil fuels, lowers carbon footprints, and reduces air pollution.


Remote Work Advantages for Companies
Even after being forced into remote work situations to help stop the spread of COVID, many companies are still clinging to hopes of returning to the traditional office environment post-pandemic. Some employers still believe this way of working is best for productivity. Therefore, employers justifiably ask themselves what added value it brings to the company to enable employees to work remotely.
Higher Productivity
Productivity can be defined as how efficiently employees are at completing tasks. Researchers found that remote work improves employee productivity. With increased flexibility and a better balance between work and home life, employees feel more comfortable and are able to deliver outstanding results to keep remote work privileges. Employees working from home reported being 22% happier which contributed to their overall job satisfaction and increased work productivity.
The convenience of a remote work environment can result in more minutes each day spent working since employees take fewer breaks and less sick days, which can result in projects being completed ahead of schedule. On average, employees save 8.5 hours a week by not commuting to work, which is time that can be added into the work week. Working from home can also reduce the amount of time spent on social interactions with colleagues and communication can be conducted quicker through direct messaging platforms, such as Slack. Time spent in long meetings can be reduced through short video chats, which allows employees more time to spend executing projects and can lead to high-quality results.
Reduced Costs
Those who have fewer employees in the office need less equipment and space. This also means lower fixed costs. Large American companies such as Aetna or American Express have saved several million in expenses with this approach. Many jobs do not require full-time employees, so part-time positions can be added as remote work positions, saving money.
Engagement and Employer Branding
Today's mentality, especially among younger employees, is shifting from purely monetary incentives to a better work-life balance. Remote work can help to reduce employee fluctuation and increase daily motivation. One study has shown that almost 3 out of 4 employees would give up their job for another if it enabled remote work. An employer can be much more attractive and competitive without any additional expense. Thousands of dollars cannot compensate for a more fulfilling life, so top talent is increasingly attracted to such incentives.
How do you improve your current remote work situation for long-term success?
Discussing whether or not to adopt a remote work situation long-term can be a challenge for many organisations. When the topic of remote work comes up, many companies ask themselves how to implement it in real life. Companies must overcome cultural and technical hurdles, and the challenge to keep teams connected and employees engaged in the company culture are significant points to be worked out before adopting a remote work solution post-pandemic.
Organisational
Most hierarchies in companies stipulate that employees have at least one direct superior. Not being able to look over someone's shoulder does not mean that managers cannot ask about progress or tasks with digital communication tools and video calls.
Companies with high-security requirements should still consider remote work. Additional requirements, such as restricting the employee's residence as the workplace or technical data protection measures, also allow critical work processes to perform remotely. With modern VPN access, encryption technologies and protected cloud servers, a physical presence is no longer mandatory in most cases.
Technical
Technology is the main hurdle for many companies, as it is associated with costs. What possibilities are there to support working from a distance?
1. Cloud-Workspace
One of the most effective digital collaboration tools is cloud-based workspaces, such as Microsoft OneDrive, Dropbox, or GoogleDrive. These software solutions enable the processing of many documents that can be accessed from anywhere in the world. With enterprise solutions from such providers, employees can form teams within these tools, work together on documents, hold free video meetings, and regularly collaborate despite physical distance. This also enables us at Valamis to further encourage a culture of learning at our company -- we can quickly share information and have multiple options for social collaboration.
Standard software such as text editing, spreadsheet tools, and presentation creation are included and do not have to be purchased separately. The calendar and mail system can be connected so that each employee's daily routine is visible to all colleagues. Even without remote work, this solution saves us a lot of time and money that would otherwise be required to set up and maintain local document structures and our servers. Each employee has their document storage capability but can also access the shared areas of their teams at any time. Documents and media can be viewed and edited across devices, and nothing is ever lost as it is stored in the cloud. This makes it easy to transition from the office to working remotely. Due to the costs usually being charged per user, such a solution is worthwhile even for individual remote employees.
2. Internal Communication
More companies are finding that the internal exchange of information is too slow and inflexible. Managers, in particular, can hardly escape the many attempts at contact. This is where modern solutions such as Slack, Microsoft Teams, or Skype come into play, whose real-time chat functions enable fast and convenient exchange between all registered employees. Especially for remote work, such tools can give a feeling of teamwork when the whole team or department is working together in a chat. In addition, these solutions can be used for the fast and secure transmission of documents, allow video chats and various helpful functions to facilitate daily work - even from home.
Slack offers a lot of functions that help us in our daily work. For example, we can chat, send documents and links, start video chats, and open up topics or task-based group channels to exchange information more effectively in teams without having to spend hours in meetings. Slack also has many integrations with tools that let you receive information right in the flow-of-work -- I can set up calendar appointments, lead notifications, all within Slack.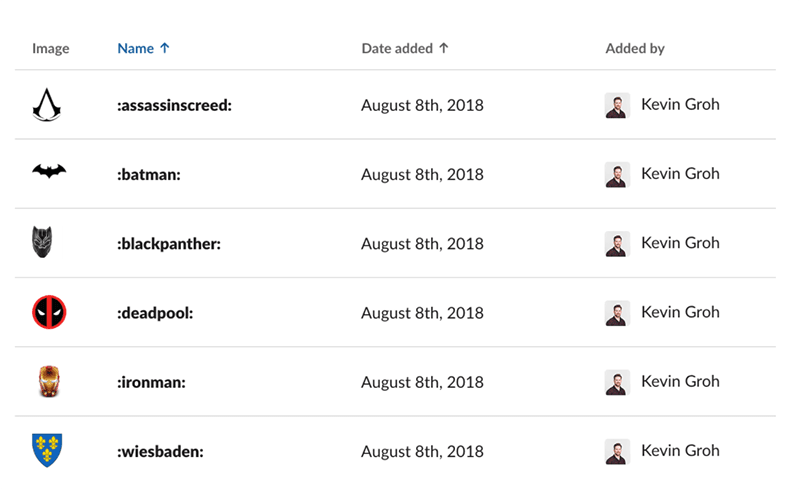 There are also Slack channels for interest groups about movies, music, fun group conversations, and more so that the social aspects are not neglected. In this way, we maintain a sense of cohesion, even when everyone is working from home. As a result of the pandemic, a #corona slack channel and a #workingremotely channel were opened up for those interested in sharing information and commiserating. Here at Valamis, we have begun virtual coffee breaks and had the opportunity to invite our CEO. We've become so familiar with Slack that we're even launching corporate events and photo competitions, and after-work events where anyone can participate. This way, even the corporate culture can be maintained digitally. Slack also gives us methods to communicate across language barriers, and we can customise emojis and share gifs.
3. Hardware
In many smaller and long-established organisations, it is not self-evident that all office employees have a laptop. For remote work, however, such a laptop is essential and should be provided to the employee. Other devices such as printers, additional monitors, keyboards or card readers may also be necessary depending on the task at hand. However, since all these remain in the company's possession and most employees can manage with a laptop without additional equipment, the costs here are not much higher than for the purchase of permanently installed PCs. The benefits in terms of versatility and mobility outweigh any additional costs.
As mentioned at the beginning, every Valamisian uses a laptop so that we are not tied to any particular location in our offices. Apart from a stable Internet connection, a prerequisite for this is the ability to log into our internal systems. This requires fast and easy VPN access, which enables an encrypted connection to critical systems. Although it is not allowed to monitor the employees' activities constantly, the IT department must be able to help by remote maintenance in case of problems. This also involves the ability to wipe a system in case of a theft. There are also physical screen filters to prevent other people from peeking at what our employees are doing. With all the many online tools and software solutions we use to accelerate our productivity and collaboration, we use SSO (Single-Sign-On), a single access point to access all systems. Of course, there are still critical top security practices that will only take place behind locked doors.
4. HR
Employees who work remotely also have contractually agreed weekly hours. Since monitoring the computer (runtime, programs used) falls into the susceptible area of performance monitoring, other ways of recording working hours and performance are needed. Some companies fulfil the documentation obligation by filling in simple tables, which the employee maintains based on trust and enters his/her times there. But there are also modern software solutions that allow employees to enter working hours, sick leave, vacation requests and even project assignments on their own so that the HR department only has to make adjustments without any additional work.
5. Company Alignment & Management
Those who have never experienced remote work will quickly realise that it is not always easy to organise oneself and at the same time keep an eye on what the department or company needs. For such cases, some tools allow you to create collaborative lists, maps, or mind maps where every employee - remote or not - can enter their current tasks or open deadlines. This way, everyone in the company can see what work is currently in progress and where you stand. This is especially interesting for departments, which can transparently display and coordinate everyday tasks in this way. Such software can provide a useful overview for superiors and management, no matter where the employees are. Valamis uses Weekdone company-wide for goal management and OKRs. Every employee and team uses project management and task management tools that best fit their individual or group needs.
6. Other Tools
Remote work is a rapidly growing market, so new solutions are being developed every day to make work more efficient regardless of location. This also includes solutions that have been in use in many companies for some time. Sales software, marketing automation or mailing assistants are already being used extensively and work with online access that also works from home. As long as a stable Internet connection is available, it can continue to be used. With VPN access, it is also possible to work with internal systems such as ERP or HR.
13 Valamis Tips for Staying Connected with Remote Work
Here are a few tips for staying connected with your employees working remotely:
1. Host group conference lunch/coffee breaks/team activities (Camera on!)
2. Create a group for sharing working remote tips and resources.
3. We have also encouraged people to share their experiences in general: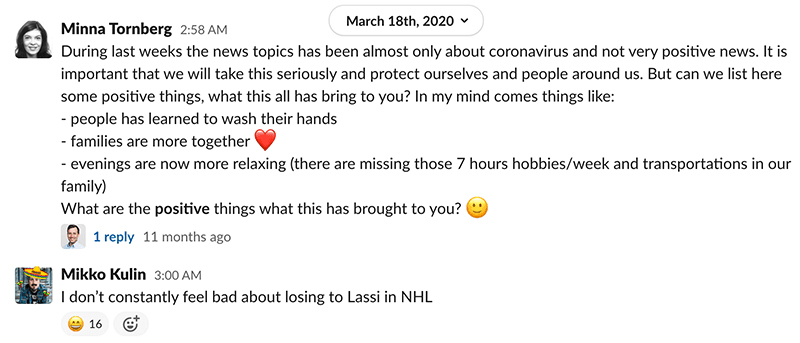 4. Set yourself clear goals that you want to achieve each working day. You can use tools like Trello (online Kanban method tool).
5. Start your day like a normal working day, and also end your work day at your regular time. Make sure you get some free time even though your laptop and tasks are at home with you.
6. Communicate! Tell others what you are working on, make notes in meetings and share them, and make sure everyone who needs to be informed will get the info.
7. Agree with your team how you share info: it can be by pinning documents and messages to your slack channel, sending notes via email, using team drive etc.
8. If you're working on the same problem with others, decide the time when you're working with it with your colleague/team. This way you can respond when needed when you have synchronized your work.
9. When on a call, screen sharing, camera, and shared documents might be useful for co-operation and synchronized work. When in a meeting, concentrate on it.
10. Take care of your ergonomics: working from the sofa might seem tempting, but it's not necessarily the most ergonomic option.
11. Be available, but reserve time also for focused work. It's okay to close Slack or any other messaging platform for some time to focus, just communicate this with your team ahead of time.
12. Wear real clothes, not pajamas! It will make you feel as if you are at work and not just relaxing at home.
13. Remember to get some fresh air every day!
Conclusion: Why Long-Term Remote Work Will Be the "New Normal"
Digital work processes are becoming more prevalent, and some areas of daily work are unimaginable without them. Unfortunately, many companies only convert their operations when there is absolutely no other option, such as scrambling, to switch to 100% digital as pandemic lockdowns began last year. Being prepared to continue supporting a remote workforce and digitising your organisation has a number of significant advantages that can make the transition worthwhile.
Those who work digitally can connect with colleagues on the other side of the world within seconds, and it almost eliminates the need and limitations of paper. At Valamis, there are no shelves full of bulky folders or extensive archives where documents must be stored for years. The printer cartridges also last very long. This saves time, space, money, and is also very good for the environment.
Digitally working means flexibility, which is a tremendous competitive advantage in today's business world. The more work procedures that companies digitally implement, the more independent and productive employees become. Corporate learning also benefits from digitisation because employees can make more time to learn new skills to help your organisation grow without the constant interruptions of an office environment.
One of the most significant advantages of digitalisation is the time it saves. Slow emails are being replaced by quick slack messages, and the punch clock has given way to online timekeeping tools. Bulky file folders turn into digital folders stored with multiple backups and with available access from anywhere. Instead of searching stacks of invoices for a specific number, you use the search function on your PC and save a lot of time. Almost every administrative process benefits from this form of work. Digital work opportunities also increase employee loyalty, which has an extra impact on productivity and corporate culture.
The step to make the permanent transformation from a traditional office job to remote work is in many companies smaller than one might think since it has already been tested and proven successful for many businesses. In companies that were not designed for this in the past, new software solutions can offer enormous advantages and process simplification, even without actual home-based work. This goes for both work and learning. It is often difficult to leave the familiar path and see what is possible. Hopefully, this article can serve as a reference for ideas on how to design the working day to benefit employers, employees, and even some work processes and make not only the business results but also the work and personal development as a whole more pleasant and effective.